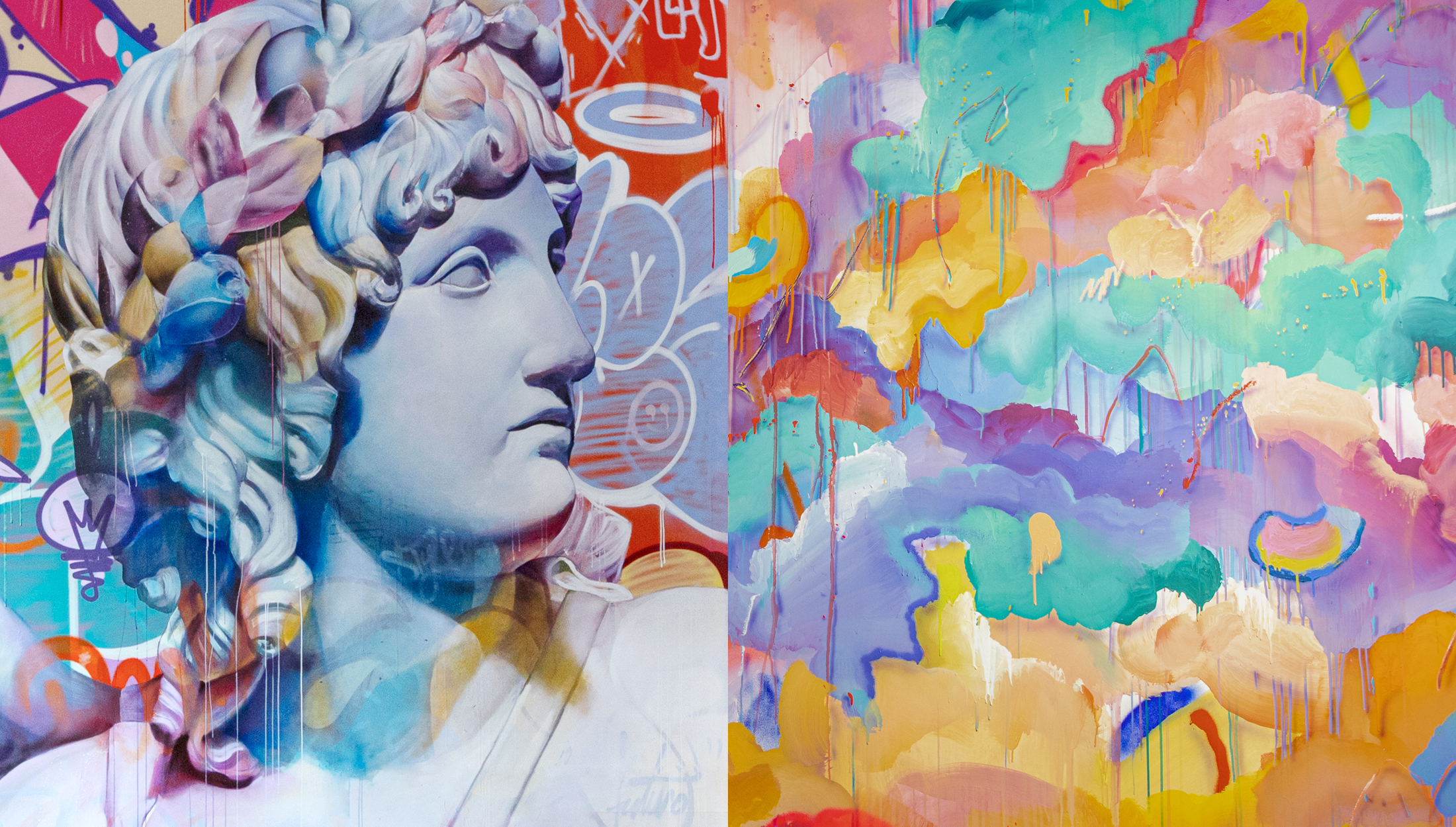 #BringColorBack
At Flax & Kale we want to continue filling every corner of our restaurants and dishes with the color and joy that characterize us so much.

Because after months of uncertainty, we want to celebrate with you our desire to continue innovatinging.

And to make your visit to our restaurants memorable, we have filled our walls with color together with the urban artists PichiAvo and Misterpiro.
LET'S GET SOCIAL!
Share your experience on Instagram. Every week we will raffle a dinner for two at F&K Passage.
___________________

01. Follow us on @flaxandkale.

02. Upload a photo / video of your experienceat the restaurant in your stories or your Instagram account.

03. Add the hashtag #BringColorBack, tag a friend and @flaxandkale.
PichiAvo

It's a duo of Valencian artists recognized for their hablities to create connections between painting and sculpture in urban envirnoments. In their work you can identify a balanced combination of classical art and the most contemporary urban art.

PichiAvo's career has achieved artistic recognition, critical acclaim and popularity internationally, placing them among the most popular street artists in the current urban art scene.
Misterpiro

Visual and urban artist based in Madrid, although his work and works lead him to travel around the world.

Its origins start in the street, with graffiti, and later it continued with the watercolor, the acrylic and the water-based techniques. Currently, he has managed to combine these two very contrary techniques in a unique style, full of expression and color.

With his distinctive delicacy, he brings watercolor to the street, which represents a new mounting for Misterpiro, the mural.
LEGAL BASES OF PARTICIPATION IN THE PROMOTION "#BRINGCOLORBACK" BY FLAX & KALE

1.- COMPANY ORGANIZING THE PROMOTION

TERESA CARLES HOLDING, SLU, with address at Calle Tallers,77, 4th Floor, 08001, Barcelona (Spain), provided with NIF B25683103, organizes for promotional purposes the raffle called "#BRINGCOLORBACK" (hereinafter, "the Promotion") through its national Instagram account, exclusively for orUsers residing in Spain and of legal age in accordance with the provisions of the conditions to participate section.

2.-START DATE AND END DATE

The Promotion starts on August 2to 2021 and will end on September 27, 2021.

3.- DESCRIPTION, MECHANICS OF THE PROMOTION AND PARTICIPATION REQUIREMENTS

In order to participate in the contest they must:

Be Mof age and reside in Spain.
Follow the Flax & Kale account on Instagram (https://www.instagram.com/flaxandkale/).
Upload to said platform a post or story with photographs or videos recorded at Flax & Kale Tal restaurantslers (C / Tallers 74b, Barcelona) or Flax & Kale Passage (Sant Pere Més Alt 31-33) in which you can see the murals painted by the artists Pichiavo and MisterPiro.
Use the hashtag "#bringcolorback", mention one of your contactsos in the post and tag "@flaxandkale" in the post / story.
In the event that the participant's account is "private" and has restricted public access, it will be necessary to send us the post / story in question by messagedirect through the same platform.
The theme of the contest is the artistic murals that the artists Pichiavo and MisterPiro have painted in two restaurants, for example:

Photos of the murals
Ambien videosyou of the restaurants where you can see the murals.
Macro details of the paintings
Photos / videos of the dishes inspired by these artists.

The prize will be assigned randomly and totally.random entity.
The winners will be notified of the award and will have 48 hours to respond to the Organization in their declaration of acceptance. If an award acceptance message is not received, the award will be assigned to an alternate alsoien chosen at random, within seven days. In the event that an alternate winner does not respond within 48 hours, the corresponding prize may be considered void.

4.- CONDITIONS OF THE PROMOCION AND AWARDS

The winners and alternate names will be chosen by lottery on August 9, 16, 23 and 30, 2021, and September 6, 13, 20 and 27, 2021.
The selection of winners and alternates will be made from frandom order.

The prizes drawn will be:

8x Dinners for 2x people at Flax & Kale Passage consisting of:

TASTING MENU :

To choose (1 px):
'BBQ pulled pork' bao: healthy bao + jackfruit + red cabbage sauerkraut + peanuts + chili jam mayonnaise + coriander
Crunchy yellowfin taco: crispy nixtamalized corn taco + marinated yellowfin tuna cubes + white cabbage + coriander+ Chinese chives + homemade hot pink sauce + avocado + sesame seeds
To share:
Mango & avocado tartare: mango + avocado + red onion + semi-dried tomato + seaweed caviar + white sesame + chives + tartar sauceto landlady
My vegan Japanese girlfriend bowl: black rice + quinoa + 'bbq pulled pork' jackfruit + plant-based scrambled eggs + yakiniku sauce + cilantro
To choose:
Zucchini & kale pesto flatbread: marinated zucchini +carrot sauce + arugula + avocado + teresian parmigiano
Yellowfin & ginger flatbread: tomato + yellowfin tuna carpaccio + miso-ginger sauce + katsuobushi + sakura cress
Dessert ( to choose ):
Lemon Pie: oatmeal and almond tart + lemon and yuzu cream + coconut and flax cream
Cheesecake: it's plant-based cheesecake + cookie base + berry coulis
Drinks:
Copa of wine or kombucha
Desalinated water
Bread



5.- LIMITATIONS

If it is evidenced that any of the participants does not meet the requirements set forth in the Bases,or the data provided to participate are not valid, their participation will be considered void and they will be automatically excluded from the Promotion, losing all rights to the prizes awarded by virtue of this Promotion.


The following persons may not participate in the Promotion:

Employed workers employed in any of the companies and other entities with legal personality linked to TERESA CARLES HOLDING, SLU
Individuals who participate directly or indirectly in the capital of the aforementioned companies
(iii) Any other natural person who has participated directly or indirectly with the Organization of this Contest or hasalready been directly or indirectly involved in its preparation or development (agency, suppliers, etc.).

The prizes awarded will not be transferable or subject to changes, alterations or compensation at the request of theParticipants, not being able to be exchanged for any other product or money.


The Organization reserves the right, if there is just cause and prior legal communication, to make any change, suspend or extendGo to this Promotion.


Any fiscal or tax burden that the acceptance of the prize may imply will be borne by the winner, as well as any other expense derived from the promotion that is not expressly assumed.gone by the organizers in these Legal Bases.


A term of FIFTEEN (15) calendar days is established from the date of the awarding of the prize, to make any motivated claim. The Organization reserves, andn case of obligatory necessity, the right to substitute the prize for another of similar characteristics.


6.- PUBLICATION OF COMMENTS OR OPINIONS

Comments or opinions will not be allowed whose contentnest is considered inappropriate, that are offensive, injurious or discriminatory or that could violate the rights of third parties.

Nor will comments against an individual that violate the principles of the right to honor, to the ipersonal and family intimacy and self image.

The Organization will not be responsible for the damages caused by the comments made by the participants in the Promotion, and that at any time could hurt the sensitivityd from other participants.

7.- DISCLAIMER OF LIABILITY

By way of example, but not limited to, the Organization will not be responsible for possible losses, theft, delays or any other cIrcumstance attributable to third parties that may affect the development of this Promotion, nor will it be held responsible for the use made by the participant with respect to the prize obtained from this Promotion.

The Organization does notYou will assume any responsibility for any loss or damage of any kind that the Participants, winner or third parties may suffer.


The Organization will not assume responsibility in cases of force majeure or unforeseeable circumstances that maymay prevent the realization of the Promotion or the total or partial enjoyment of the prize.

In the event that this Promotion could not be carried out, either due to fraud detected in it, technical errors, or any other reason that is notunder the control of the Organization and that affects the normal development of the Promotion, we reserve the right to cancel, modify, or suspend it, including the participation website.

8.- SOCIAL NETWORKS AND OTHERSSITES EXTERNAL TO THE ORGANIZATION

The Promotion is not sponsored, endorsed, administered or associated in any way with Instagram. In this way, the Participants release said companies from all responsibility for the eventudamages arising from the Promotion.

9.- PERSONAL DATA PROTECTION

The Organization takes the protection of your privacy and your personal data very seriously. Therefore, your informationpersonnel will be stored securely and handled with the utmost care.


By providing your data through the participation form, you consent to their treatment in accordance with the established conditions.ecidas in our privacy policy. For more information, you can consult our privacy policy through the following link: http://teresacarles.com/legal/legal_es.html

10.- CHANGES

TheOrganization reserves the right to modify or expand these bases of the Promotion, to the extent that it does not harm or impair the rights of the participants in it.

11.- APPLICABLE LEGISLATION AND JURISDICTION <br />
These legal bases will be governed in accordance with Spanish law. They will be competent to resolve any claim or controversy that may arise in relation to the validity, interpretation or compliance of these bases ass Courts and Tribunals of the city of Barcelona.