Digestive Elixir
desalinated water
lime
blueberries
activated carbon

Cold-Pressed Juices
Digestive Elixir
desalinated water
lime
blueberries
activated carbon
desalinated water
maple syrup
lime
blueberries
activated carbon

Rating per 100 grams

| | |
| --- | --- |
| Energetic value | 80 kJ/19 kcal |
| Fats | <0,1 g |
| Of which saturates | <0,1 g |
| Carbohydrates | 4,7 |
| Of which sugar | 3,9 g |
| Protein | 0 g |
| Fiber | <0,5 g |
| Salt | 0,03 g |

Refrigerated product

You must buy a minimum of 6 refrigerated products so that we can send them to you

400 ml
Free shipping from € 49
Digestive
antioxidant
Moisturizer
Depurative
Restorative
Cold Pressed Juices
Digestive
Elixir
This sweet juice lives up to its name with the blend of blueberries, lime and activated charcoal that keeps your digestive system running with vitamins and nutrients in every sip.
Flavor and color
desalinated water
blueberries
lime
The subtle point of sweetness of the maple syrup together with the lime and blueberries make this juice a fresh mixture studied to delight the palate.
Its intenseColor is achieved thanks to the bluish tone of blueberries and the dark color of activated charcoal.

This formula not only refreshes but quenches our thirst, provides us with a large amount of antioxidants and improves our digestion.ones. Can you ask for more from a juice?
It tastes so good. Feels even better
Originals. Tasty. Healthy
Blueberries

The nutritional properties of these berries support the immune system and protect the health of the heart, digestive system and brain.

lime

Due to its potassium content, it is a highly diuretic food and, like other citrus fruits, its high contribution of vitamin C reduces the risk of suffering from cardiovascular and degenerative diseases.

Activated carbon

It is the result of the process of carbonization and activation of plant matter. Its micropores absorb and expel harmful substances from our body.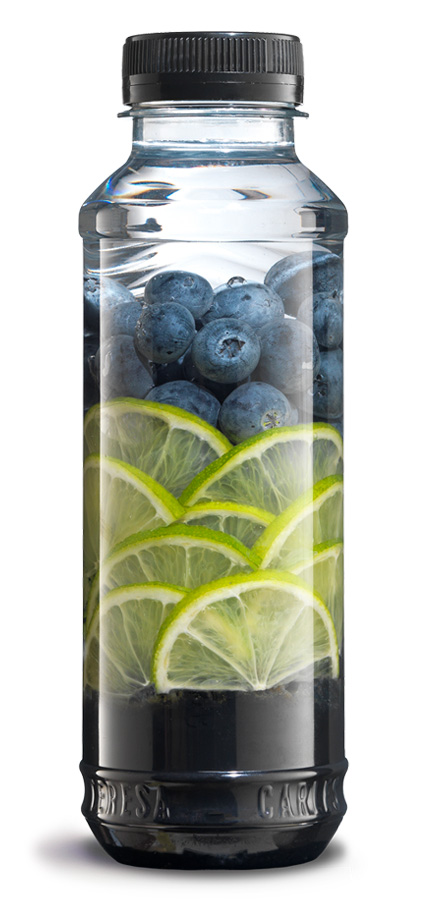 Our juice bottles are made of recycled R-PET plastic
The cold press is a vegetable juice extraction procedure that minimizes oxidation and preserves the nutrients in the liquid intact. In the first phase, the ingredients are crushed at low revolutions, thus preventing the temperature from rising andits nutrients are destroyed. The crushed ingredients are then pressed, extracting every last drop of liquid. Thus we obtain a pure juice, full of life and flavor, as if we were drinking directly from the fruit.
Ideally in the afternoon, from 3:00 p.m. to 6:00 p.m. It will hydrate you while helping to lighten your digestion and, therefore, make you feel more energetic.
nutritional information
Without
colorants

Not
pasteurized

100%
natural

Without
preservatives
| | |
| --- | --- |
| Energetic value | 80 kJ/19 kcal |
| Fats | <0,1 g |
| Of which saturates | <0,1 g |
| Carbohydrates | 4,7 |
| Of which sugar | 3,9 g |
| Protein | 0 g |
| Fiber | <0,5 g |
| Salt | 0,03 g |