Dried Fruits
Umami Marcona
Probiotic Potential
Energetic
Vitamin E source
almonds
anacardos
soy sauce
white miso (SOY)
Sesame oil
ginger
sesame
agave syrup
black garlic
lemon

Rating per 100 grams

| | |
| --- | --- |
| Energetic value | 2648 kJ/ 633 kcal |
| Fats | 52,4 g |
| Of which saturates | 5,1 g |
| Carbohydrates | 28,4 g |
| Of which sugar | 7,4 g |
| Protein | 21,8 g |
| Fiber | 11,5 g |
| Salt | 2 g |

Free shipping from € 49
Store in a cool and dry place
Once opened consume in a few days
Not fried - Air dried
Healthy fats
Eco
Protein source
plant based
Gluten free
100% biodegradable
Our client's reviews
69 Reviews verified
19-04-2022 Carmen 5.00 over a maximum of 5

Adictivas!

23-03-2022 Ludovica 5.00 over a maximum of 5

Can't stop snacking on those

18-03-2022 Gemma 5.00 over a maximum of 5

So flavorful and addictive!

07-02-2022 Laia 5.00 over a maximum of 5

Molt bones. Un snack perfectament saludable.
Dried fruits
Umami flavor
Here are the queens of the Mediterranean: marcona almonds . They have earned their throne thanks to their high content of healthy fats, their versatility and intense flavor, as well as the delicious experience that comes from eating them alone.

We have taken them further and coated them with a mixture of ingredients of Asian origin that give it the much sought after umami flavor. Did you know that the word umami is of Japanese origin and means delicious-sabrbear? That is what you will find inside this pack. Beware, the content is naturally addictive !
DEHYDRATED, NOT FRIED!
We never deep-fry our products and our Umami Almonds are no exception. They go through a dehydration process in which we only extract moisture through heat, thus maintaining the nutrients, proteins, carbohydrates, fats and saludables, minerals, trace elements and vitamins. Also, by concentrating, the flavors intensify. In this way, we avoid the high fat content of fried snacks that promote overweight and cardiovascular diseases.
Dried fruits revolution
Healthy and delicious
Almonds

Rich in essential monounsaturated fats. High in healthy fats. Source of vitamin E for healthy skin and calcium for strong bones.

Miso

It is a flavoring paste from Japan naturally fermented with soybeans. It provides a large amount of protein and carbohydrates, ideal for athletes. It has antioxidant properties, so it fights aging.or cellular and eliminates the presence of free radicals.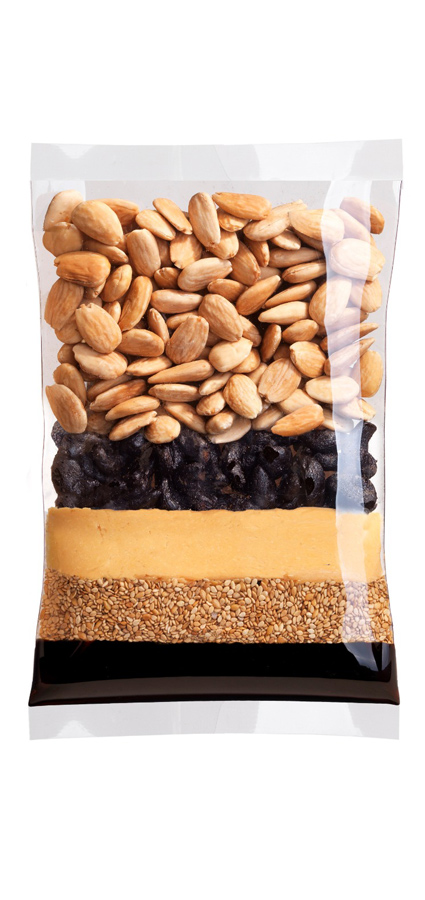 sesame

Seed native to India and Africa. Rich in B vitamins, minerals such as calcium, magnesium, phosphorus and silicon, fiber, vegetable proteins and healthy fats.

Black garlic

It is an ingredient that has conquered our kitchens as it adds a lot of value to any dish. As it is fermented, its antioxidant and probiotic properties multiply, and its flavor is smoother and sweeter.
Thanks to its content of fatty acids and fiber, almonds are a potentially satiating food. Fats are slow to digest so they slow down gastric emptying and, like fiber, make us feel full for longer.s time.
The fats in almonds have potential probiotic properties, as they improve the health of our digestive system by increasing the levels of beneficial bacterial flora.
nutritional information
Healthy
fats

Not
fried

Without
preservatives

Without
colorants

High
fiber
content

Protein
source
| | |
| --- | --- |
| Energetic value | 2648 kJ/ 633 kcal |
| Fats | 52,4 g |
| Of which saturates | 5,1 g |
| Carbohydrates | 28,4 g |
| Of which sugar | 7,4 g |
| Protein | 21,8 g |
| Fiber | 11,5 g |
| Salt | 2 g |
SUBSCRIBE TO OUR NEWSLETTER AND GET 10% OFF. IN YOUR ORDER!
We will keep you up to date with news, releases, limited editions, events, recipes, articles, promotions and more.