Greenpacho
green tomato
avocado
espirulina

Soups and creams
Greenpacho
diuretic
comforting
fiber source
green tomato
avocado
espirulina
65% green tomato, osmotic water, 7% avocado, cucumber, olive oil, green pepper, spring onion, salt, ginger, garlic, basil, apple cider vinegar, 0.1% spirulina. Can contain
May contain traces of celery.

per 100ml

| | |
| --- | --- |
| Energetic value | 246kJ/59kcal |
| Fats | 4.8g |
| Of which saturates | 0.8g |
| Carbohydrates | 3.8g |
| Of which sugar | 2g |
| Protein | 0.9g |
| Fiber | 1.4g |
| Salt | 0.65g |

Refrigerated product

You must buy a minimum of 6 refrigerated products so that we can send them to you

400 ml
Free shipping from € 49
shake before serving
Signature recipes
Gluten free
No added sugar
Lactose Free
Fiber source
OUR GREEN VERSION OF THE GAZPACHO
GREENPACHO
Our chef offers us an original recipe that fits in all seasons, but especially now, when the good weather begins. Discover and enjoy this delicious mixture in which you will notice a slight acid flavor of green tomatoes combined with an avocado and basil flavo. How we get that intense green color? We owe it to spirulina which, in addition to having an impressive color, is very rich in proteins, nutrients, vitamins and minerals.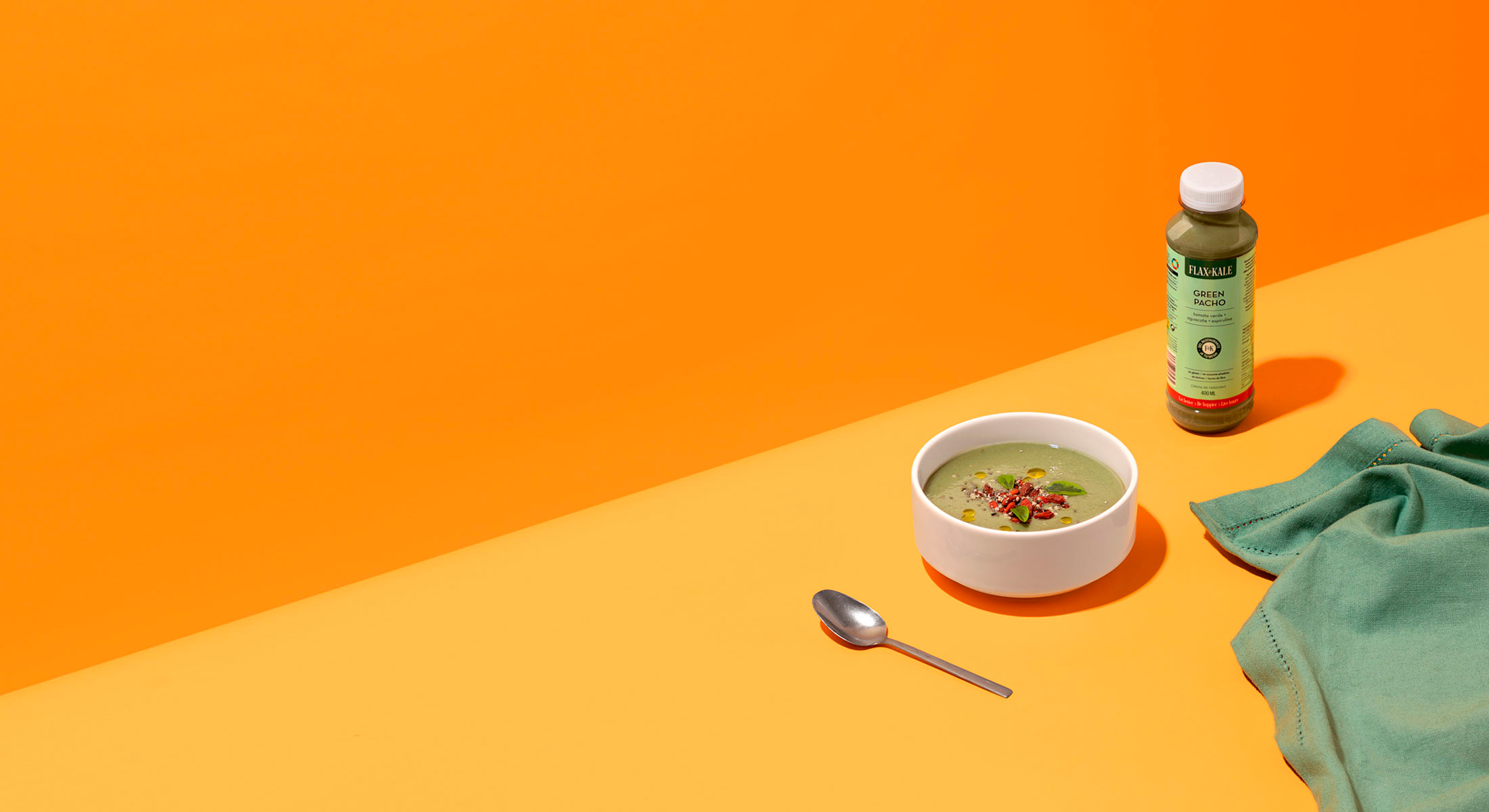 Whenever you want, wherever you want
green tomato
avocado
spirulina
You no longer have to spend hours in the kitchen to eat well. Drink your favorite soups and creams wherever you want, whenever you want. Enjoy them alone or as the start of a meal!complete!
Subscribe to our newsletter and get 10% Dto. in your order!
We will keep you up to date with news, releases, limited editions, events, recipes, articles, promotions and more.