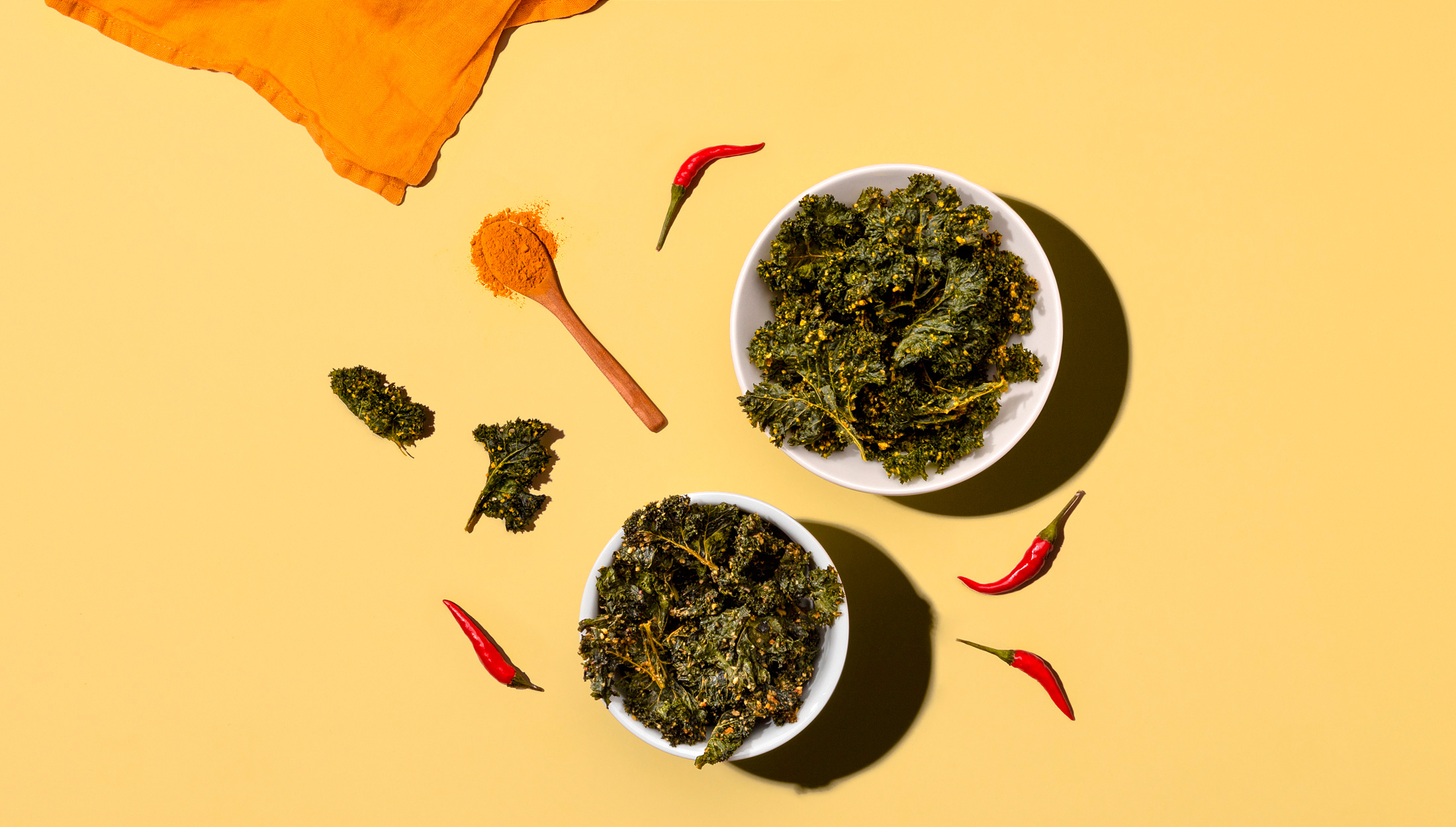 Cold chips
Yes, we did it
When we first discovered kale, we knew that it had to be more than a secondary ingredient in our menus, so we made it one of the protagonists of the Flax & Kale brand. We have never seen a higher concentration of nutrienteas on a leaf and we decided to grow it ourselves. We have experimented with it for years and since then, its versatility and nobility have not ceased to amaze us.

Our challenge was to turn it into something more than a leaf. We wantedthat was tasty, healthy and perfect for any occasion, that was fun and very crunchy. Ladies and gentlemen, we have made it.
The snacking revolution.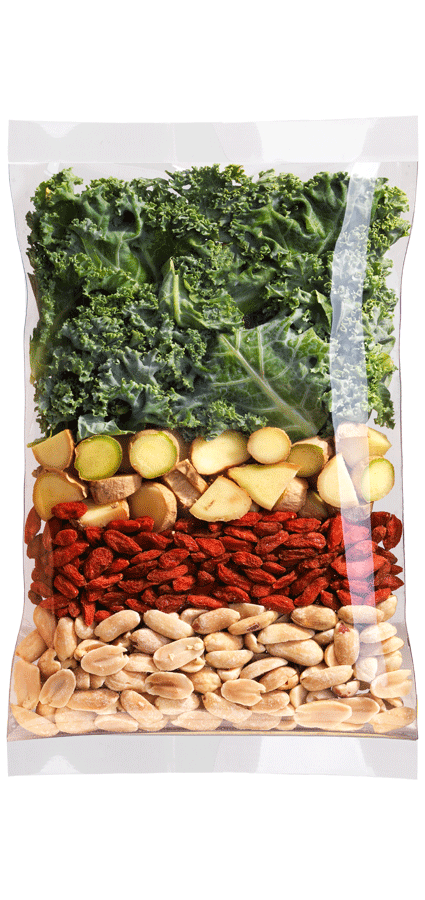 Our kale chips are not fried.
We dehydrate them to keep their nutritional properties intact. In this way, its flavor is also concentrated and intensified.
Kale is rich in vitamin A, K and contains up to 10 times more vitamins.na C than spinach.
It has more calcium than milk.
Reduces high blood pressure due to its high content of magnesium, copper, potassium and sodium.
Prevents fluid retention.
Yes, the time has come to change the chip for kale.
"Our challenge was to develop a snack as tasty as kale-based potato chips. We wanted a salty, crunchy, non-fried snack , without excess of salt and without artificial flavor enhancers. Those ingredients had to provide, in addition to more flavor, a nutritional value. "
Potato chips

Cold chips

High energy concentration but at the same time, not very nutritious.
Contains vitamin A, C, K, B6 and antioxidants. Rich in minerals such as iron and calcium.
Dehydrated, not fried.
Unsaturated fats that can help lower cholesterol levels.
Dehydrated at less than 45ºC for manhave the nutritional properties and extend its life.
Food located at the base of the food pyramid. They are a great way to contribute to your daily vegetable intake.
High nutritional density.
Addictive
Your withsumo favors a healthy and balanced diet.
Fiber source. Up to 200% more than potato chips.
Fried with low-quality oils.
High in saturated and trans fats.
They contain acrylamide, a substance that appears in foods with a high content of hydrAtos of carbon that have gone through a fried process from 180º of temperature, and cataloged as a carcinogenic substance by the WHO.
Food located in the upper part of the food pyramid, as sporadic and remote consumption.
highs amounts of salt.
Addictive
Its high consumption favors the appearance of overweight and obesity among other diseases.
Poor in fiber.
They are tasty. They are healthy.
They are sustainable.
Respectful packagings

100% biodegradable and compostable. Our containers are obtained from cellulose, pla and other biodegradable polymers.

We grow it ourselves

We grow kale in our greenhouse. To nourish it, we use compost obtained from the organic waste generated by our workshop. In addition, we have a rainwater recovery process that we use to irrigate the land de our kale.

Organic raw material

Our raw materials are organic and local. Our products are gluten and lactose free, and suitable for different nutritional needs.
SUBSCRIBE TO OUR NEWSLETTER AND GET 10% OFF. IN YOUR ORDER!
We will keep you up to date with news, releases, promotions, limited editions, events, recipes, articles and more.