My Sweet Horny
pineapple
Apple
aloe vera
passion fruit
maca

Cold-Pressed Juices
My Sweet Horny
Vigorous
Energy injection
pineapple
Apple
aloe vera
passion fruit
maca
pineapple
Apple
aloe vera
passion fruit
maca

Rating per 100 grams

| | |
| --- | --- |
| Energetic value | 284 kJ/66 kcal |
| Fats | 0,2 g |
| Of which saturates | <0,1 g |
| Carbohydrates | 15,8 g |
| Of which sugar | 12,7 g |
| Protein | 0,4 g |
| Fiber | <0,5 g |
| Salt | 0,01 g |

Refrigerated product

You must buy a minimum of 6 refrigerated products so that we can send them to you

400 ml
Free shipping from € 49
No added sugar
Vigorous
Energy injection
Moisturizer
Digestive
Depurative
Cold Pressed Juices
My sweet horny
Sweet. Delicious. Irresistible.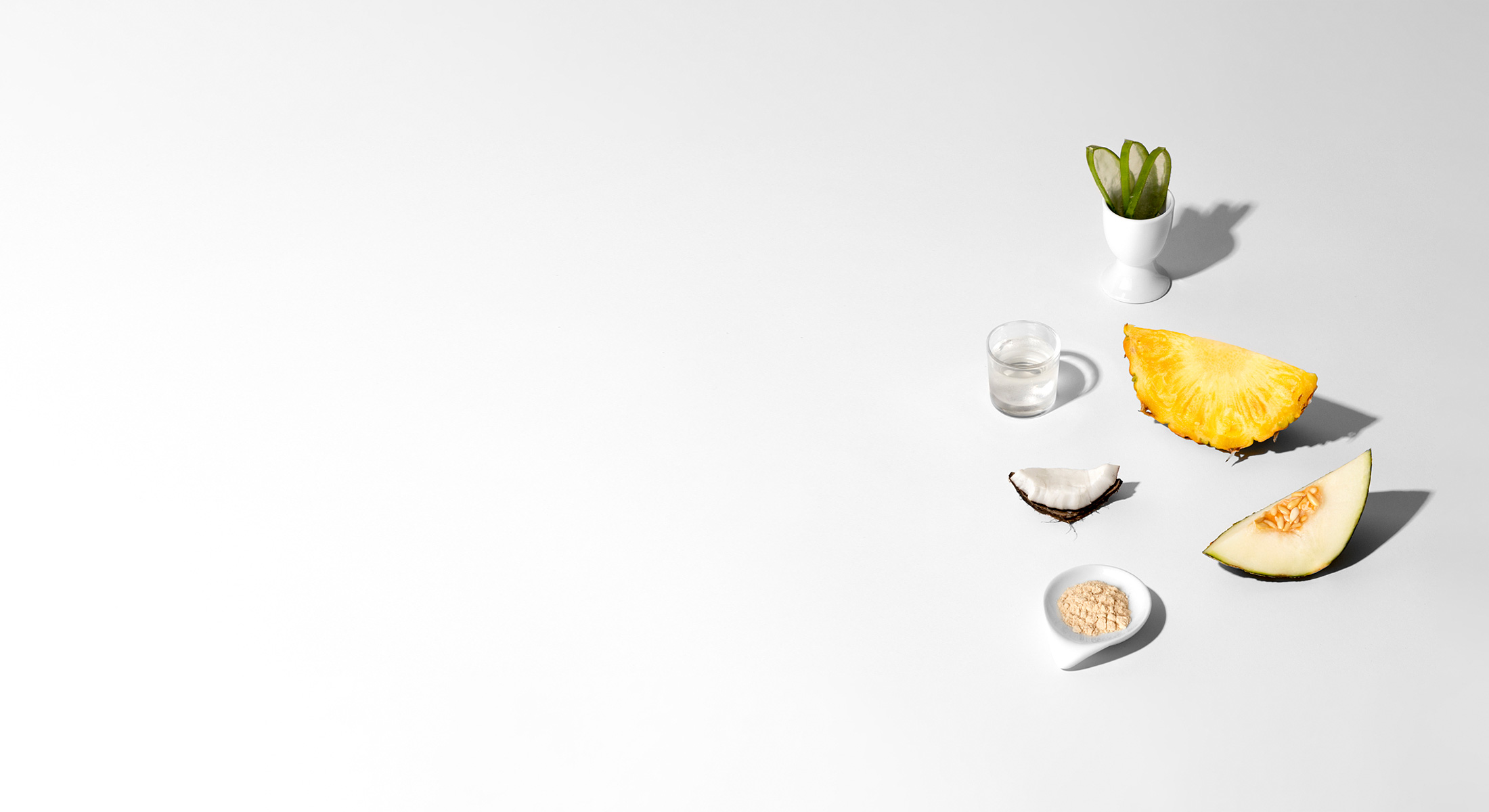 Golden mix
pineapple
cantaloupe
coconut water
aloe vera
The acidity of the pineapple, the sweetness of the melon, the freshness of the coconut water and the bitter touch of the aloe vera give us in this juice a sweet mixture and a dormant color.ado that does justice to the luxury of drinking this formula.
Natural toner
Its mixture offers a safe way to stimulate digestion, strengthen the immune system and promote the elimination of toxins.
It tastes so good. Feels even better
Original. Tasty. Healthy
Pineapple

Its duretic action stands out due to its water and potassium content, as well as being an antioxidant and helping to regulate metabolism.

Apple

It contains antioxidant substances such as quercetin with diuretic and anti-inflammatory properties.

Aloe vera

Queen of medicinal plants. It is an excellent natural antiseptic that cleanses the body. It is anti-inflammatory and at the same time very nutritious due to its vitamin and mineral content.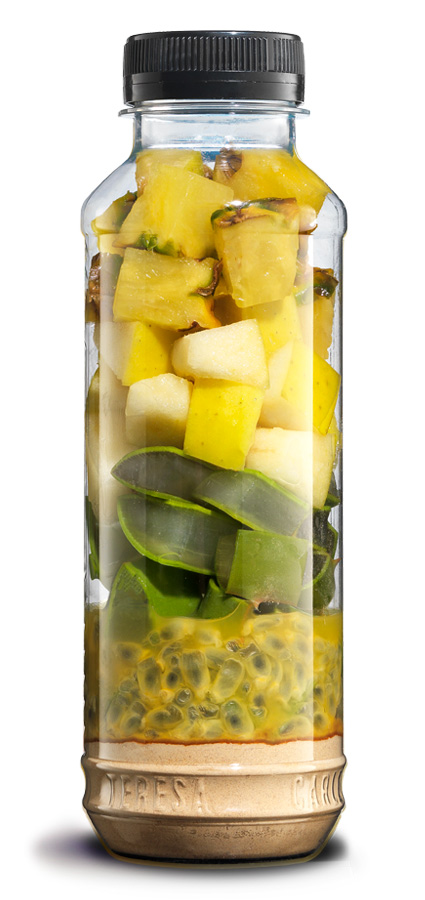 Passion fruit

This tropical fruit has antioxidant properties due to vitamins A and C and diuretics due to its water and potassium content.

Pussy

Root of a native plant of the Andes that increases strength, endurance, sports performance. It also has aphrodisiac and invigorating properties.
Our juice bottles are made of recycled R-PET plastic
The cold press is a vegetable juice extraction procedure that minimizes oxidation and preserves the nutrients in the liquid intact. In the first phase, the ingredients are crushed at low revolutions, thus preventing the temperature from rising andits nutrients are destroyed. The crushed ingredients are then pressed, extracting every last drop of liquid. Thus we obtain a pure juice, full of life and flavor, as if we were drinking directly from the fruit.
Ideally in the afternoon, from 3:00 p.m. to 6:00 p.m. It will hydrate you while helping to lighten your digestion and, therefore, make you feel more energetic.
nutritional information
Raw

Fresh

Without
colorants

Plant
based

Not
pasteurized

100%
natural

No
added
sugars

Without
preservatives
| | |
| --- | --- |
| Energetic value | 284 kJ/66 kcal |
| Fats | 0,2 g |
| Of which saturates | <0,1 g |
| Carbohydrates | 15,8 g |
| Of which sugar | 12,7 g |
| Protein | 0,4 g |
| Fiber | <0,5 g |
| Salt | 0,01 g |
Subscribe to our newsletter and get 10% Off. in your order!
We will keep you up to date with news, releases, promotions, limited editions, events, recipes, articles and more.