PLANT-BASED JAPANESE BOWL
brown black rice and red quinoa
pulled jackfruit
vegan scramble
salsa yakiniku

Ready meals
PLANT-BASED JAPANESE BOWL
brown black rice and red quinoa
pulled jackfruit
vegan scramble
salsa yakiniku
41% brown brown rice and red quinoa (60% brown black rice, 27% red quinoa, 13% yakiniku sauce [soy sauce (water, soy, salt, alcohol vinegar), mirin (sweet rice, shochu [water, rice , koji], rice and koji spores), agave syrup, garlic and acsesame eite]), 32% vegan stir-fry (ackee [Blighia sapida], silky tofu [water, soy and nigari (magnesium chloride)], mushroom, carrot, garlic, olive oil, edamame [soy], spinach, salt sulfurous), 23% pulled jackfruit (onion, 30% jackfruit, textured soy protein, tomato, olive oil, garlic, mustard [water, mustard seeds, alcohol vinegar, salt], red pepper, whole cane sugar, green pepper, salt, apple cider vinegar, ginger, chili fresh, cumin, parsley), natural aroma, sesame, coriander.
Contains soy, mustard and sesame. May contain traces of celery, peanuts, nuts and sulphites.

per 100g

| | |
| --- | --- |
| Energetic value | 713 kJ/ 171 kcal |
| Fats | 9,8 |
| Of which saturates | 9,8 de las cuales saturadas 1,7g. / de las cualesmonoinsaturadas 5,6g. / de las cuales polinsaturadas 1,6 g. |
| Carbohydrates | 16,7 g |
| Of which sugar | 4,4 g |
| Protein | 4,7 g |
| Fiber | 2,2 g |
| Salt | 1,20 g |

275 g
Selected recipes from Flax & Kale and Teresa Carles restaurants.
Conditions: You must choose at least 4 prepared dishes to finalize your purchase (does not apply in packs)
Our client's reviews
123 Reviews verified
22-06-2022 Bernadet 5.00 over a maximum of 5

Great taste, love the Jackfruit

04-05-2022 Sara 5.00 over a maximum of 5

Mi favorito!!!

07-04-2022 cristina 5.00 over a maximum of 5

rico y original

16-08-2021 arancha 5.00 over a maximum of 5

Está buenísimo. Me encanta ?
¿FRUIT THE MEAT?
They are not egg or meat, but two fruits called ackee and jackfruit. The ackee, in addition to being delicious, exquisite and with a unique flavor, will make you think that you are seeing, smelling and tasting egg. Once roasted, the jackfruit closely resembles meatpulled pork. The result is a healthy, delicious and planet-friendly alternative.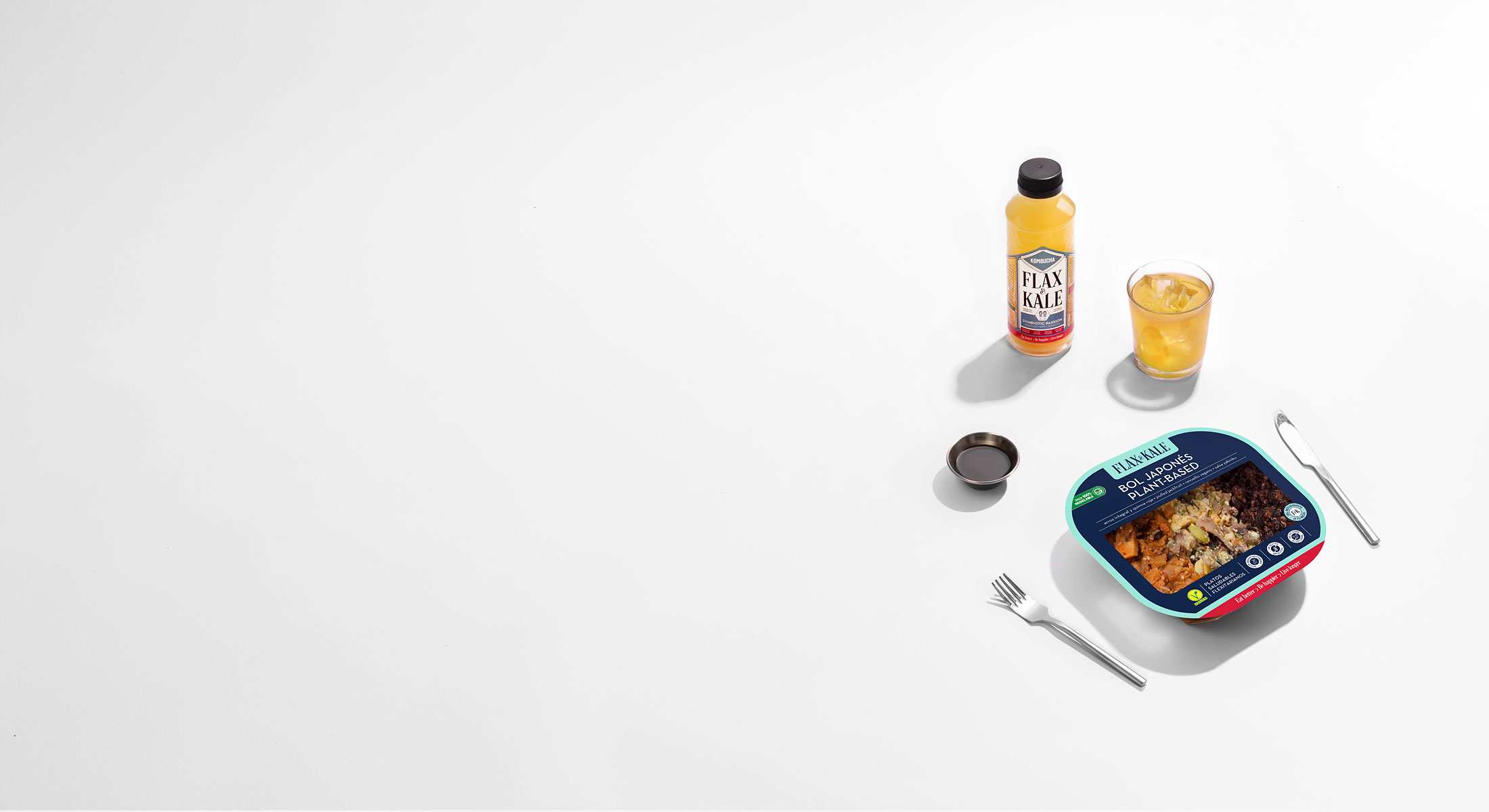 PLANT-BASED JAPANESE BOWL
Once you try our Asian-inspired dish, eating plant-based will become a whole new experience. Based on one of Flax & Kale Passage's best-sellers, the mixture of brown brown rice and red quinoa, pulled jackfruit, scrambledvegan ackee-based and our yakiniku sauce will surprise you.
Heat in the microwave or in pan following the instructions. Once opened, consume within 24 hours.
Subscribe to our newsletter and get 10% Off. in your order!
We will keep you up to date with news, releases, promotions, limited editions, events, recipes, articles and more.