Passion Grapefruit
tangerine
grapefruit
Strawberry
passion fruit
ginger

Cold-Pressed Juices
Passion Grapefruit
Antioxidant
Anti-inflammatory
tangerine
grapefruit
Strawberry
passion fruit
ginger
Apple
tangerine
grapefruit
Strawberry
passion fruit
ginger

Rating per 100 grams

| | |
| --- | --- |
| Energetic value | 188 kJ/ 45 kcal |
| Fats | 0,15 g |
| Of which saturates | 0,02 g |
| Carbohydrates | 10,6 g |
| Of which sugar | 9 g |
| Protein | 0,4 g |
| Fiber | 0,5 g |
| Salt | 0,06 g |

Refrigerated product

You must buy a minimum of 6 refrigerated products so that we can send them to you

400 ml
Free shipping from € 49
No added sugar
antioxidant
Anti-inflammatory
Moisturizer
Depurative
Digestive
Our client's reviews
74 Reviews verified
31-10-2022 Eva 5.00 over a maximum of 5

Este es mi favorito es perfecto

26-09-2022 Priti 5.00 over a maximum of 5

family favourite!

29-07-2021 Sandra 5.00 over a maximum of 5

Sorpresa absoluta!

01-03-2021 Nicolas 5.00 over a maximum of 5

Love it
Cold Pressed Juices
Passion
Grapefruit
The passion fruit, or better known as the passion fruit, is the undoubted star of our exotic mix.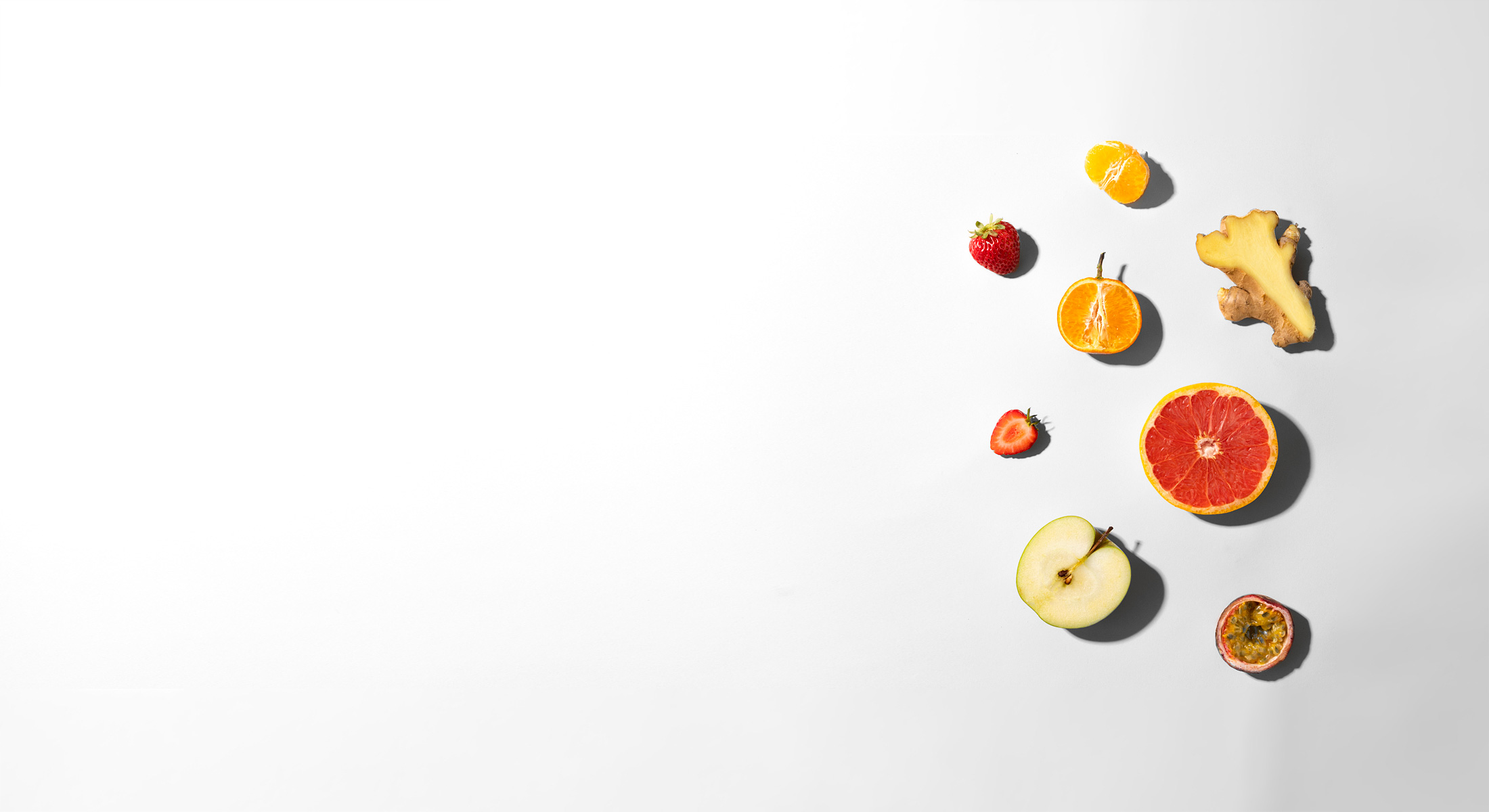 Tropical way of life
tangerine
grapefruit
Strawberry
passion fruit
ginger
The mixture of passion fruit, mandarin and grapefruit give this juice a surprising flavor, slightly acidic and very aromatic, which stands out with thehints of strawberry sweetness and the slightly spicy hint of ginger Transport yourself and feel the good tropical life in every sip!
natural antioxidant
This juice stands out for its richness in vitamin C, which gives it a powerful antioxidant power, and minerals such as potassium and magnesium, which provide diuretic and purifying power. Ideal for declaring war on colds and colds.
It tastes so good. Feels even better
Original. Tasty. Healthy
Strawberry

It acts as a powerful antioxidant and anti-inflammatory, as well as containing antiviral properties and a low caloric intake.

Ginger

It is a root that has antibacterial, antiviral properties and stimulates the immune system.

Passion fruit

This tropical fruit has antioxidant properties due to vitamins A and C and diuretics due to its water and potassium content.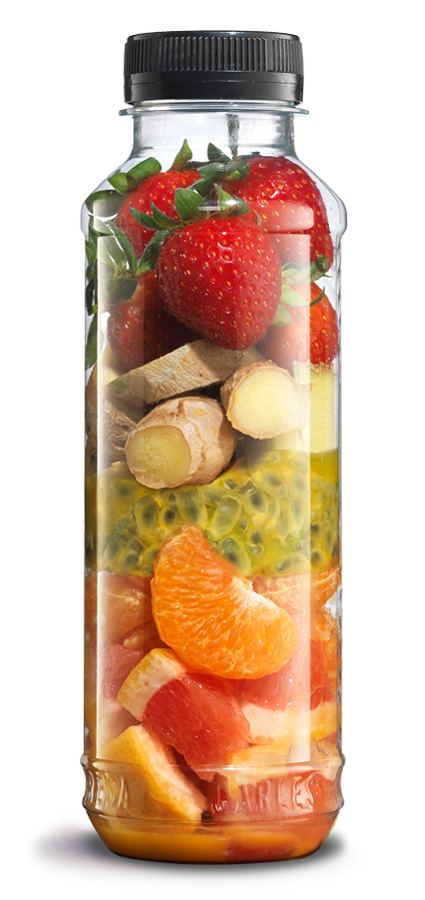 Tangerine

Like other citrus fruits, it reduces the risk of contracting infectious diseases and flu, slows skin aging and promotes vision.

Grapefruit

Its high content of vitamin C makes it an antioxidant fruit, in addition to being diuretic and purifying due to its high percentage of water.
Our juice bottles are made of recycled R-PET plastic
Although it sounds like a heavy metal group to you, free radicals are reactive molecules that are associated with the damage and aging of cells. And although it may not seem like it, in themselves they are necessary for our body but there must be a balance betweenre free radicals and antioxidants. Antioxidants are vitamins and minerals responsible for protecting our cells and mitigating the effects of free radicals by balancing this balance.
The cold press is a vegetable juice extraction procedure that minimizes oxidation and preserves the nutrients in the liquid intact. In the first phase, the ingredients are crushed at low revolutions, thus preventing the temperature from rising andits nutrients are destroyed. The crushed ingredients are then pressed, extracting every last drop of liquid. Thus we obtain a pure juice, full of life and flavor, as if we were drinking directly from the fruit.
nutritional information
Raw

Fresh

Without
colorants

Plant
based

Not
pasteurized

100%
natural

No
added
sugars

Without
preservatives
| | |
| --- | --- |
| Energetic value | 188 kJ/ 45 kcal |
| Fats | 0,15 g |
| Of which saturates | 0,02 g |
| Carbohydrates | 10,6 g |
| Of which sugar | 9 g |
| Protein | 0,4 g |
| Fiber | 0,5 g |
| Salt | 0,06 g |
Subscribe to our newsletter and get 10% Off. in your order!
We will keep you up to date with news, releases, promotions, limited editions, events, recipes, articles and more.