LEGUMES SAUTE + TAHÍN SAUCE
chickpeas
adzukis
bean
mushrooms
Cherry tomato
tahini sauce

Ready meals
LEGUMES SAUTE + TAHÍN SAUCE
chickpeas
adzukis
bean
mushrooms
Cherry tomato
tahini sauce
23% mushrooms, 18% adzukis, 13% beans, 13% chickpeas, 10% cherry tomato, mushroom mix in variable proportions (gyrgolas, shimeji, shiitake, nameko, boletus edulis), peas, 3% tahin sauce (toasted sesame, salt), olive oil, spinach,soy sauce (water, soy beans, salt, alcohol vinegar), salt, black pepper, thyme.

per 100g

| | |
| --- | --- |
| Energetic value | 571kJ/137kcal |
| Fats | 7g |
| Of which saturates | 1,1g |
| Carbohydrates | 11,4g |
| Of which sugar | 1,9g |
| Protein | 6,4g |
| Fiber | 4,8g |
| Salt | 0,76g |

275 g
Selected recipes from Flax & Kale and Teresa Carles restaurants.
Conditions: You must choose at least 4 prepared dishes to finalize your purchase (does not apply in packs)
Our client's reviews
37 Reviews verified
29-07-2021 arancha 5.00 over a maximum of 5

Comeria cada dia !!! Buenisimo!!!

15-06-2021 Lucie 4.00 over a maximum of 5

Plato muy original y rico

12-07-2021 Patricia 3.00 over a maximum of 5

Estaba correcto pero no repetiría

10-05-2021 Mar 1.00 over a maximum of 5

Horrible en caliente, probaré en frío.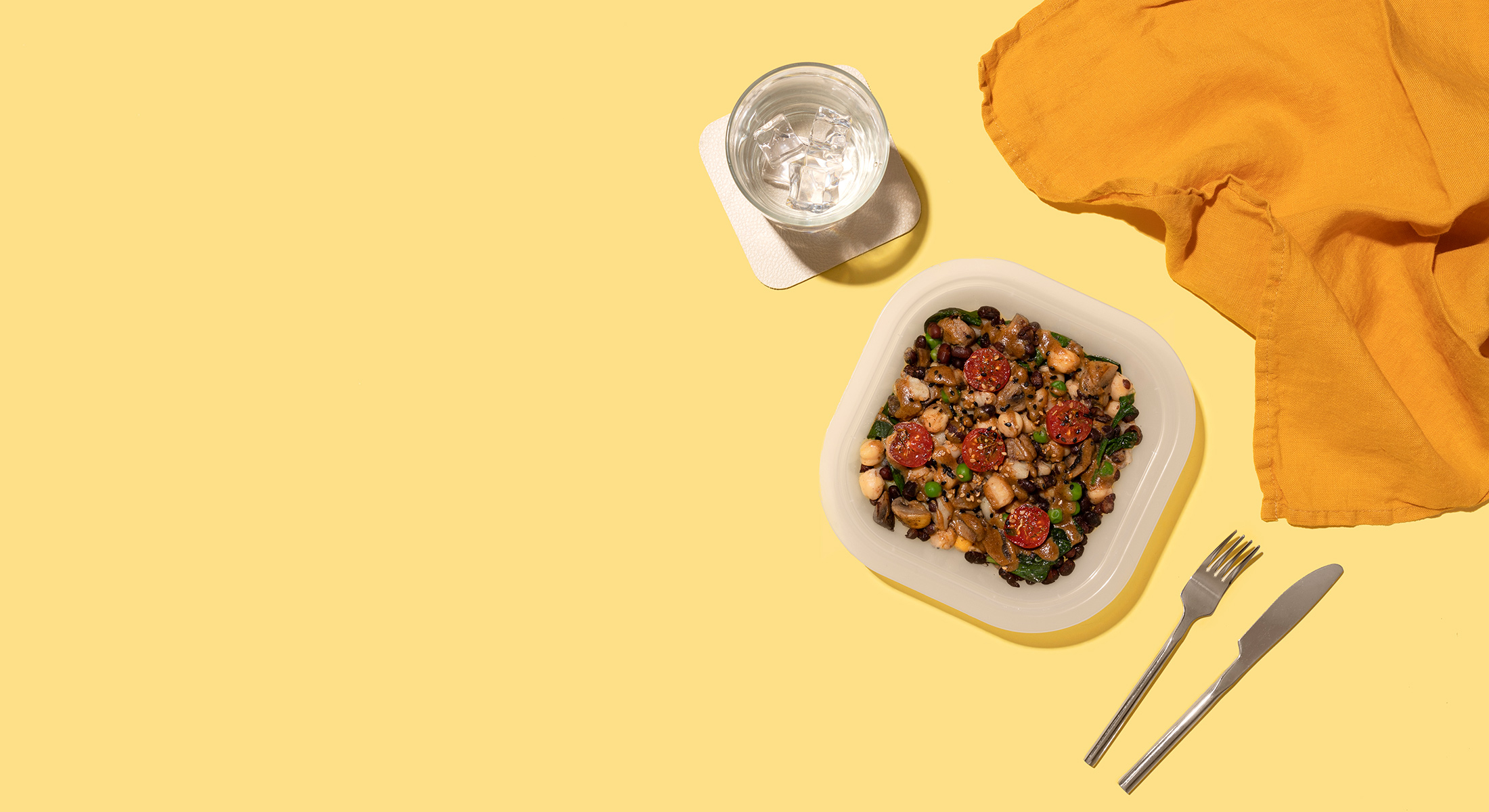 TAHÍN: SIMPLE AND CREAMY
Tahini is a paste that has only one ingredient: sesame seeds. It is a food of ancient origin, with a multitude of healthy benefits and a very creamy texture. Enjoy one of the most special flavors of the Middle East.
Subscribe to our newsletter and get 10% Off. in your order!
We will keep you up to date with news, releases, promotions, limited editions, events, recipes, articles and more.